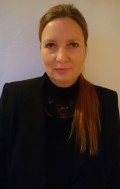 Hello, my name is
Marianne Willert.
Welcome to my website.
I work as a Project Manager at construction sites. Former Engineer and Surveyor at M.J. Eriksson, a civil engineering and construction company. Previous Mechanical Field Engineer and Project Manager of QRH.
As a Field Engineer at FLSmidth I mainly worked in Russia. The job was hands-on with focus on supervision of mechanical erection of industrial machines, alignment, maintenance, leadership and safety.
Previously, I worked as a Project Manager of Quick Release Hooks (QRH) within the Marine industry and offshore on drilling rigs as a stewardess and Mechanical Engineer Trainee at Offshore Technology department - Dong Energy.

I hold a bachelor degree in Mechanical Engineering. Further, I have an education as a Business Coach, Project Manager and Security Guard.
Please enjoy my website and LinkedIn profile where you will find more about me, my previous projects and pictures from my work. Thanks for visiting!